Toronto – A Place of Hope and Challenge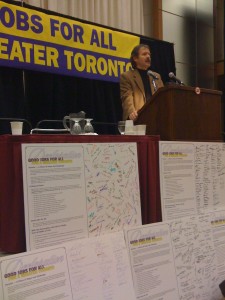 Since the First Nations gave Toronto the name "a gathering place" the city and region have been the destination of choice for generations of immigrants and refugees, who come with their skills and dreams of making a better life for themselves and their families. While many found those dreams fulfilled, opportunity and prosperity were never fully shared.
Many factors contributed to our quality of life: active government engagement; a strong industrial base with middle income union jobs; a well-funded education system; cohesive public services and social programs; the struggles of women, immigrants and racialized communities for equality; the dedication of community activists for social justice; and a deep desire for environmental sustainability. However, the growth of inequality and environmental degradation challenges us all.
A Shared Vision
We are living in a special moment in history. The dominant economic model of recent years is leaving many behind. We know from real experience that other ways are possible, even in a period of rapid globalization. Together we can build an economy with good jobs for all.  Working people know those factors that are critical in providing good jobs:
The right for every worker to be treated with respect and dignity
The ability to have full-time, stable employment
The right for everyone to have a living wage
The need to have work that is safe and healthy
The enforcement of labour rights and standards in all forms of work
The right to have a collective voice at work through unionization
The investment in public education and life long learning
The recognition of diverse qualifications, skills, learning and creativity
The provision of benefits for medical, dental, vision and disability needs
The equitable access to work, extended training and advancement
The opportunity to participate in a greener economy
The ability to retire with dignity
Good Jobs for All
Decent work is central to our fulfilment and well-being. Decent work provides people with a livelihood, an identity and a sense of real belonging to the community. We must ensure there are good jobs for everyone, today and for the next generation. We reject policies which undermine and erode decent work.
With this Declaration, We Call on People from all Walks of Life:
To demand an economy with good jobs for all.
To build social solidarity in our communities, our workplaces, our organizations and public institutions.
To insist on public policies from all orders of government that support the goals of a just, equitable and inclusive society.
To require all with power in our society to exercise that power for the common good.
To ensure that economic activities are sustainable, enabling future generations to meet their needs while living in harmony with our planet and with each other.