Last night, Equity Toronto and the Good Jobs for All Coalition hosted a presentation and mayoral Q&A on equity and good jobs to a packed house of over 300 people at Innis Town Hall, University of Toronto.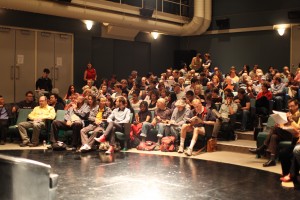 Due to scheduling conflicts with a competing mayoral debate hosted by the Italian Business and Professional Association at the same time in the Dufferin and Lawrence area, the first hour of the event consisted of presentations about good jobs and equity by Hamlin Grange, Colour of Poverty, Centre for Community Learning and Development, and the Toronto Women's City Alliance.
Speakers backed up their concerns about the growing divide in Toronto by referencing reports like United Way's Poverty by Postcode report and the Women's Equality Report Card Project.  Community residents mostly shared the speakers' sentiments: one audience member told the approving crowd their neighbourhood of Etobicoke North was being forgotten and left out, getting less services and poorer access to the TTC than downtown.
In order to accommodate candidates' schedules, the candidates were interviewed one-on-one by John Tory – a unique format in the unbelievable number of debates scheduled from now until October 25.
On the key issue of outsourcing public services, Smitherman admitted that outsourcing services makes sense in some circumstances (like health care?), but said he supports the fair wage policy.    Rocco said essentially the same thing.   Sarah Thomson dodged the question, and Pantalone said he will fight outsourcing "tooth and nail."  Rob Ford was a no-show.  Given Ford's comments on immigration and enthusiasm for tax cuts, this comes as no surprise – last night's lefty-audience would likely have been a little hostile.
For a blow-by-blow account of the debate check out Kelly Grant's twitter feed on the Globe and Mail website.  Twitter tells us the hall was so packed Grant didn't get a seat until 9.05pm.
Despite the unique format, co-chair of the Good Jobs for All Coalition, Tam Goossen, declared the debate "a win for the community and the issues."  "It was a packed house, we had people from Rexdale to Scarborough in attendance, we got a full hour to talk about our issues, and then community members got to ask lots of questions to the candidates.   It turned out to be a true forum for community participation."