Toronto Election Charter for Climate Justice and Good Green Jobs for All
In Toronto's October 22, 2018 Toronto municipal election, we must demand action against climate change.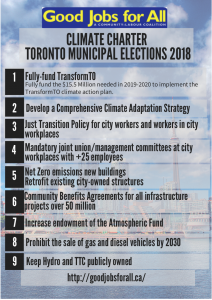 The Good Jobs for All Coalition created the Election Charter for Climate Justice to support action now and after the election. It contains nine great measures that should be included in the City's ongoing program to meet our greenhouse gas reduction targets.
Use it to ask candidates who are seeking your vote what they pledge to do to combat climate change:
Take the Charter to all-candidates meetings and ask questions
Write letters to the editor about the nine measures
When candidates ask for your vote on your doorstep, ask if they'll commit to advocating for the Charter
Download the short version of the Charter or the longer version.