Something's Really Wrong with Workers' E.I. Safety Net
We Need to Fix EI!
Here are some questions to ask Federal election candidates.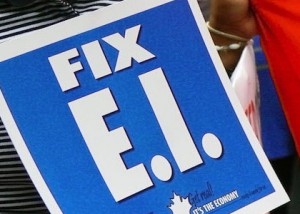 We need to start paying attention to the huge cracks in our EI system – or pay the price with the next economic slowdown or recession.
Politicians may focus on EI parental or seasonal benefits but the main job of EI is to provide income security when we're laid off or lose a job.
We pay weekly EI premiums so the safety net's there when we need it.
EI rules are too harsh, especially for those in part-time and temporary jobs.
Download PDF flyer and questions.