Hundreds of City cleaners' jobs may be contracted out without a chance for our elected Councillors to weigh in and vote on this issue. The cleaners at the Toronto Police Service are the first group under attack. Their jobs may be cut and handed over to private cleaning companies. Other cleaners, like those at Toronto Community Housing, have also been given notice.
Justice & Dignity for Cleaners Campaign goals
Establish accountability at City Council for decisions about possible job cuts
Protect cleaners' jobs
Create awareness about the human impact of contracting out good jobs by telling the stories of cleaners whose work is usually not visible
Create awareness about the overall social and economic impact on our city
Recruit more cleaners and allies to be prepared for future fights against job cuts
Why Are Cleaners Jobs' Threatened?
A budget crisis of $774 million has been manufactured by the Ford administration. Using this crisis, Ford and his supporters at City Council will attempt to privatize many of the city's services and systematically attack city jobs that pay a living wage. KPMG, a private consulting company, was hired by the Mayor Ford to conduct a Core Service Review and propose many of these cuts.
While the public is focused on the devastating cuts to services, City staff managers are being directed by the Ford agenda to push through job cuts that are not part of the Core Service Review.
The Reality of Contract Cleaning
For decades, private cleaning companies have exploited cleaners – particularly women and immigrants – by paying them poverty wages. Cleaners in the private sector usually work multiple jobs just to keep their families afloat. Many have worked hard to organize themselves and improve their working standards. By paying our cleaners a decent wage with health benefits and providing safety training and job security, our City has defended good working standards for a healthy city.
Good Jobs and the Health of our City
Toronto already has too many poverty jobs. Creating more poverty jobs could have serious, long term consequences. If we want to leave a growing and vibrant city to the next generation of residents, we must start with defending good jobs.
The Ford administration is trying to circumvent democratic and transparent process by directing City managers to make the final decisions affecting hundreds of jobs. Decisions that could impact the overall economic health of our city should be made by elected City Councillors, not City managers. If City Council does not act on this issue, these job cuts will go through. This would also set the stage for many more cuts and layoffs.
City Councillors must take responsibility for supporting living-wage jobs in our city instead of allowing secret, backroom processes that could turn Toronto into a low-wage city.
Good Jobs for All, a community-labour coalition, is organizing this campaign to call
on City Councillors to make the decisions we elected them to make. City Councillors should insist on democratic and transparent decision-making at City Council.
The campaign features a team of City cleaners and private sector cleaners who are supporting a decent wage for all cleaners in every sector.
The Campaign Initiatives Include:
Lobbying City Councillors to ensure that these cuts come to a vote at City Council
Distributing flyers and posters that targets residents in wards where Councillors have not taken a stand on the issue. Ensuring that Councillors take a side.
Click on the button below to contact your City Councillor now.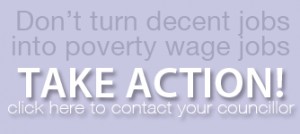 If you would like to download the campaign flyer: English | Spanish.
Contact us at info@goodjobsforall.ca for more information.